Mobile UX Google Academy Air Live Stream
// By Dillon Kavanagh
We recently sat in on a Google Academy session on Air Live Stream which was focused on Mobile User Experience (UX). The talk was precise, insightful and well constructed by Indre Putrimaite (Mobile UX Manager @ Google) and Mairead Butler. The focal point of the live stream was the simplification of the mobile process flow, common hindrances and barriers to the conversion or e-commerce checkout process. Before getting into the nitty-gritty details, an emphasis was placed on beautiful, intuitive mobile designs and how we can instinctively spot the difference.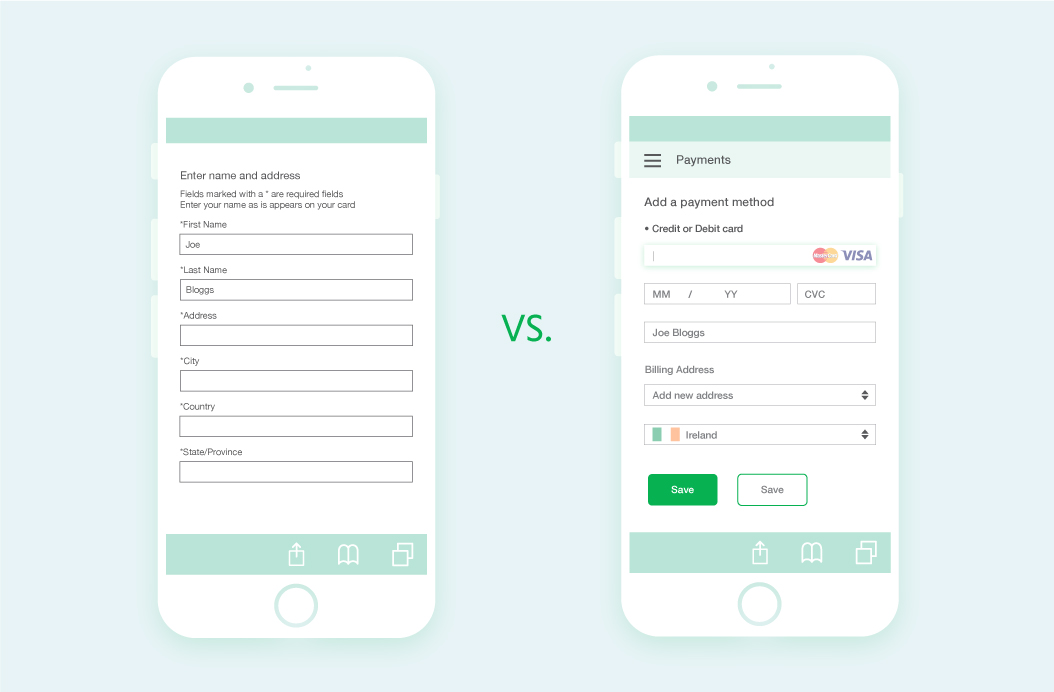 Q: When was the last time you asked a group of users to complete a task on your website or app?
Google recommends that you consult & listen to your consumers about their experience on your application, analyse these results for pain points, or topical points returned and work towards addressing them.
Businesses with better mobile sites have a difference of 140% more revenue.
Viralbamboo commonly installs advanced tracking analytics on our client's web pages to help understand what users want, care about and interact with on your site by visually representing their clicks, taps and scrolling behaviour. Relating to the relevance of your on-site experience, UX professional Indre Putrimaite discussed how your business once online is a 'global' business, users can access your site from anywhere. A key consideration of this is that your consumers can compare your brand with others very quickly, this increases consumer expectation, and it's essential to visit competing sites or products to cross-examine and identify where improvements can be made.
Source: Google INternal Data, Web Hosting Vertical, FY2014, not statistically significant.
What makes a good mobile experience?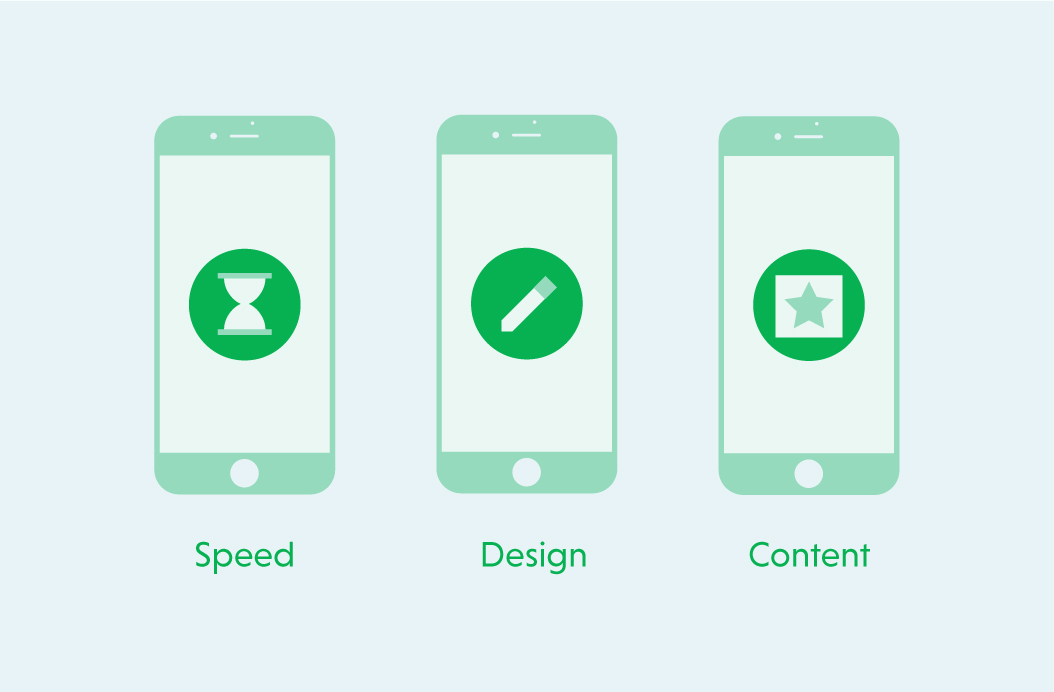 Design
Testing Tip: Be sure to test your site on a standard connection (3G)… 70% of mobile network connections globally will occur at 3G or slower speeds through 2020.
Speed is paramount, however, any discussion must be focused on ensuring design principles remain at the core of good mobile design. Google has partnered with AnswerLab to research how a range of users interacted with a diverse group of mobile sites; they devised 25 fundamental principles of mobile site design to aid companies who build mobile websites that delight customers and drive conversions. You can read more about this study here.
Barriers to users were discussed, and some of the main factors which were covered as important to ensure great mobile design is met. These included the most common pain points:
Screen size was too small
Cannot trust credit card security on mobile device
Can't see detailed product/service information

Difficult to type

Difficult to compare prices and options

Takes too much time to open the website

Mobile access can tend to be interrupted through intrusive popups
A number of important factors to include during the Academy on Air – Mobile UX seminar were:
User forms when and where possible should be minimal to expedite the checkout/conversion process. An example is blending First Name and Last Name fields to simply Full name

W

here address input is required we suggest to use

Google Places API

autocomplete, providing type-ahead location-based predictions like search on Google Maps

Utilise auto-fill on forms where suitable; Autofill allows you to skip the inputs via saved information

Sites, where a customer is asked to register, could potentially be changed with Google's credential management tool
The Credential Management API is a standards-based browser API that provides a programmatic interface between the site and the browser for seamless sign-in across devices:
Auto inline validation allows users ahead of time to view validation of their input. It was suggested to keep the messaging friendly and on-brand

Present the appropriate key-pad when suitable by using the correct HTML type on inputs such as numbers and text input

Mobile Real Estate is limited so when possible keep all CTA's (call to actions) ATF (above the fold)
Ecommerce-tips:
Rule of noise, the closer you get to conversion, the fewer things you should have on your screen. Rule of thumb, once you get to the conversion screen, you shouldn't have anything on the page that doesn't directly contribute to the conversion

Progress bars not only let users know what to expect next but also allow the user to navigate through the conversions steps

Allow checkout as a Guest, casual users don't necessarily want to give personal information and create specific accounts. Even though logged-in users are important for marketing purposes, it is important to consider the lost sales induced by forced registration. Consider social login to improve user experience.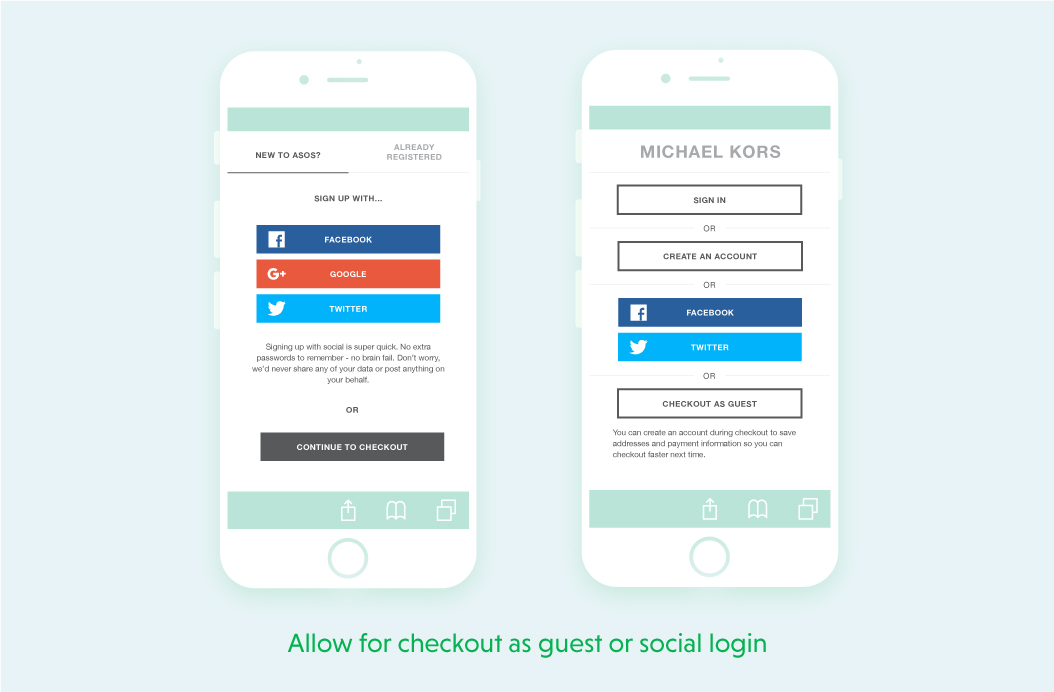 Be Proactive
User bases are different and so should your website be. We suggest that you consider using A/B split tests often, alongside utilising free tools such as Google Analytics or paid services such as Optimizely. Be sure to keep your conversion/checkout process streamlined and simple and of course, if you would like us to do the heavy lifting for you, you can always get in touch
To get you started, try out Google's Test My Site tool here.